Arpeggio Patterns and Diagrams for Guitarists

Lookup Arpeggio Fretboard Patterns and Note Information
Use the navigation menus to lookup arpeggio fretboard patterns and note information in all twelve keys. Choose the arpeggio type from the arpeggio menu and the various keys will appear on the left).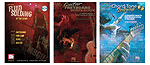 Learning and making good use of arpeggios is the ultimate way to improve your guitar soloing, get a better understanding of the fretboard and get out of the habit of always thinking "scales". Here's a list of some good books and DVD's to help you get to the next level. Click here to check them out.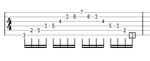 More to Come on Arpeggios
I'll soon be adding more information, tips and exercises for using arpeggios. In the meantime, why not help me out. Let me know what you would like to see. Click here and leave a comment in the new Blog.